What can I learn about the Sun--our closest star?
With special filtered telescopes you can observe the sun safely without hurting your eyes.There's more to the sun than just a yellow ball. See for yourself what the sun's surface and atmosphere look like--93 million miles away.
Our educators can provide a Solar Astronomy Outreach for your community organization, classroom, school, homeschool association or scout troop. View our brochure for more details.
What does a Solar Outreach include? | Request a Solar Outreach
NEW video: Roger Kennedy, solar astronomy educator, explains Outreach
What's new on the Sun?
For the lastest information about the Sun and how it affects the Earth check SolarHam.com --solar news and data from various sources in one spot for easy navigation.

additional solar links
7/13/16: Slow appearance of sunspots challenges theory.
Solar active regions consist of strongly magnetic sunspots and surrounding regions of more diffuse magnetic field. These regions are the origin of solar activity which controls space weather and causes beautiful phenomena such as aurora but in some cases also damage to satellites or power grids. Solar active regions are thought to be the result of magnetic flux concentrations - bundles of magnetic field lines - rising from deep in the solar interior and penetrating the surface. A team consisting of researchers from the Max Planck Institute for Solar System Research (MPS), The University of Göttingen, NorthWest Research Associates, and the High Altitude Observatory of the National Center for Atmospheric Research has now shown that these magnetic flux concentrations move upward through the solar interior at speeds of not more than about 150 m/s. This is much slower than predicted by the prevailing current model. full text
6/22/16: Acoustics researcher finds explanation for auroral sounds.
In 2012, a research group headed by Aalto University Professor Unto K. Laine proved that the source of sounds associated with the Northern Lights is located close to the ground at an altitude of approximately 70 metres. Now, by combining his measurements with the temperature profiles measured by the Finnish Meteorological Institute, Professor Laine has found an explanation for the mechanism that creates the sound.
5/9/16: Research result: The Sun's magnetic field during the grand minimum is in fact at its maximum.

During a time period of the Maunder Minimum type the magnetic field may hide at the bottom of the convection zone. About 80 solar cycles seen from the surface, i.e. more than 1,000 years in solar time, modelled by means of a computer simulation. At 20-50 years in simulation time, a simulated grand minimum occurs, which in actual fact is the maximum of magnetic energy. Credit:Image courtesy of Aalto University.
4/19/16:
From bright flare ribbons to coronal rain: High-resolution images capture a solar flare as it unfolds. Scientists at NJIT's Big Bear Solar Observatory have captured unprecedented images of a recent solar flare, including bright flare ribbons seen crossing a sunspot followed by 'coronal rain,' plasma that condenses in the cooling phase shortly after the flare, showering the visible surface of the sun where it lands in brilliant explosions. Credit: NJIT.
4/19/16: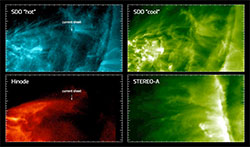 Seeing Double: NASA Missions Measure Solar Flare from 2 Spots in Space. During a December 2013 solar flare, three NASA missions observed a current sheet form – a strong clue for explaining what initiates the flares. This animation shows four views of the flare from NASA's Solar Dynamics Observatory, NASA's Solar and Terrestrial Relations Observatory, and JAXA/NASA's Hinode, allowing scientists to make unprecedented measurements of its characteristics. The current sheet is a long, thin structure, especially visible in the views on the left. Those two animations depict light emitted by material with higher temperatures, so they better show the extremely hot current sheet.Credits: NASA/JAXA/SDO/STEREO/Hinode (courtesy Zhu, et al.)
4/08/16: Solar Storm Researchers Prepare for the 'Big One' with New Urgency. At a recent conference in Washington, D.C. that drew space weather specialists from academia, the federal government, the military and private industry, Louis Lanzerotti, distinguished research professor at NJIT's Center for Solar-Terrestrial Research, summed up the implications of a massive, well-timed solar storm for today's technology-based, hyper-connected global society.